The law firm of Akin & Tate is pleased to announce that S. Lester Tate III has been inducted into the International Academy of Trial Lawyers.
The organization's website states, "The Academy was founded in 1954 and is recognized as the most prestigious organization of trial lawyers in the world. Fellowship in the Academy is by invitation only. Trial lawyers become Fellows only after an extremely rigorous vetting process, including both peer and judicial review. The Academy seeks out Fellows who have achieved a career of excellence as shown by their skills in trial and as demonstrated by their integrity and professionalism."
Membership is limited to only 500 Fellows from the United States and includes over 150 Fellows from nearly 40 countries across the globe. The organization's purpose is to elevate the standards of integrity, honor, and civility in the legal profession. Lester Tate is a trial lawyer who served as the 48th President of the State Bar of Georgia. Since 1996, he has practiced as a shareholder in Akin & Tate, P.C., Georgia's oldest continuing law firm. He has spent his entire professional career as a courtroom lawyer, having tried over one hundred civil and criminal cases to verdict and appeared over thirty times in state and federal appellate courts. He has won numerous million-dollar-plus verdicts and settlements for his clients and is widely recognized as one of the state's top lawyers.
Located in Cartersville, the law firm of Akin & Tate is the state of Georgia's oldest continuously practicing law firm. It has earned national recognition for its successful work in and out of the courtroom.
Source: https://www.iatl.net
More than two years after his initial arrest, William Marcus "Marc" Wilson's fate hangs in the balance. Loss of life is always tragic. But another tragedy was narrowly avoided in Wilson's acquittal of all the charges initially levied against him.
I was grateful for a former state president of the bar Lester Tate who decided to represent me and appeal to the court of appeals, which unanimously overturned Judge Muldrew's actions and said that the only person that was wrong in that courtroom that day was Judge Muldrew.

Francys Johhnson
Former State President
Georgia NAACP
Charged in the killing of a white teen who was a passenger in a truck that reportedly targeted and harassed Wilson on a dark rural road, the young man maintained his need to defend himself and his girlfriend at the time. While Wilson was convicted of involuntary manslaughter after a last-minute charge submitted by the prosecution, his legal team remains committed to getting their client the most just outcome possible.
Click here for Fox 5 Atlanta News coverage
I think one of the biggest things is that you're talking about lawyers who generate a high, high volume of cases, because you're selling your legal services the same way you sell Ginsu knives.

Lester Tate, Akin & Tate.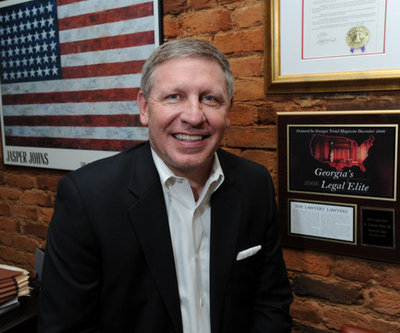 "I think that deep down, being a small-town lawyer with a statewide or national reputation is now and has always been my dream."